Plus X Award
The Plus X Award, prize for innovative technologies, sport and lifestyle products, is in its 13th year in 2016 and honours manufacturers for their quality advantage. Albert Einstein once said: "More than the past, it is the future that interests me, since that's where I intend to live." With this principle in mind, the Plus X Award distinguishes products that are innovative and viable for the future and possess at least one "Plus X" factor – the additional value of a product.

High Quality
One of the most encompassing hallmarks of excellence a product can possibly acquire is the award for "High Quality", for it embodies the manufacturer's effort to deliver nothing but the utmost quality on the one hand and, on the other, the seal represents the durability of a product. Hence, "High Quality" products are contrasting strongly with the bulk of mass-produced goods that are made for prompt consumption and replacement. "High Quality" products are genuine investments into the future.

Design
Reducing complex technology is visibly gaining in significance, both in terms of content as well as technically and for many manufacturers is becoming more and more a part of their overall philosophy. Whether their products are TV sets, fully automatic coffee machines or portable devices – functional design is a trend that is truly recognizable. And it's a successful approach, as can be seen by many products awarded with the Plus X Award.

Functionality
If a product fulfills one function – or even a group of functions – in a very efficient and user friendly way, it will be awarded the Plus X Award seal for functionality. Besides their basic functions, innovative products show extra functionality. To meet the demands of consumers, those functions should work together with the basic functions in a homogenous way. Also judged are the range of functionality and the resulting advantages for the user.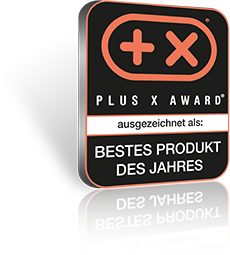 Best Product 2016/2017
In addition to consideration for each of the Plus X Award categories, the products are eligible for a further award: the "Best Product 2016/2017". This award will be conferred on the product that receives more individual category seals of approval than other comparable products within its product category.